07年11月31日鬼节阿联处女秀作客奥兰多,雄鹿大败而归。
阿联9分3板6犯下场,3丢1抢,场上时间25:26,值得肯定!
易建联在处子战就首发出场,他的步子迈得比当初的姚明还快些。他的首次得分也比姚明来得快,在比赛开始了近3分钟后,他先是抢断得手,上篮命中,可惜被吹走步在先。在首节还有9分07秒时,他终于在右侧跳投命中,拿下NBA正式比赛的第一分,雄鹿以6-4领先。
易建联在第三节一开始就投篮命中,将比分扳平。四本节还有9分42秒时,雄鹿由易建联投中一球。易建联在比赛还有3分23秒时又投中一球,可惜此后他马上被吹第6次犯规,处子战就提前离场。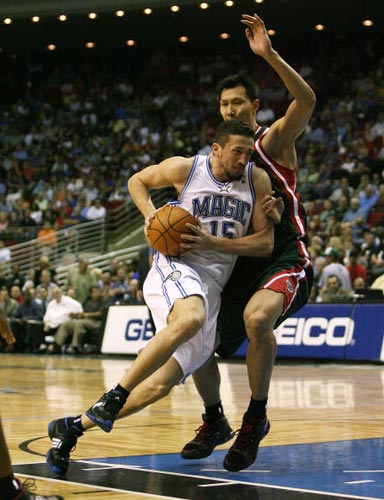 RECAP from NBA site:
ORLANDO, Fla.(AP) Rashard Lewis scored 26 points and Hedo Turkoglu had 24 to lift the sharp-shooting Orlando Magic to a 102-83 victory over the Milwaukee Bucks in the teams' season opener Wednesday night.
Behind Turkoglu and Lewis, making his Eastern Conference debut, the Magic buried Milwaukee from behind the arc. Orlando was 12-of-22, compared with 4-of-17 for the Bucks. Lewis was 4-of-5 and Turkoglu 3-for-5.
The Magic actually shot better from 3-point range (54 percent) than from the field (44 percent).
Michael Redd scored 25 points for Milwaukee and Bobby Simmons added 16. Yi Jianlian had nine points and three rebounds in 25 minutes in his debut, sitting for several stretches in foul trouble. Andrew Bogut finished with 11 rebounds.
Yi's first NBA statistic was a turnover, but he responded the next play by blocking Turkoglu's layup. The 7-footer scored his first NBA bucket about 30 seconds later on a 22-foot jumper.
Dwight Howard had 16 points and 12 rebounds. Perhaps most importantly for Orlando, he hit eight of 10 free throws.